This listing has ended.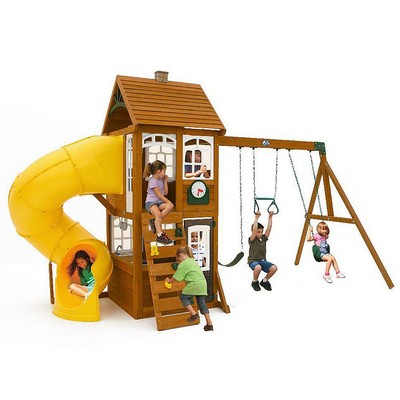 Similar items you may be interested in
Toys & Hobbies > Outdoor Toys & Structures > Swings, Slides & Gyms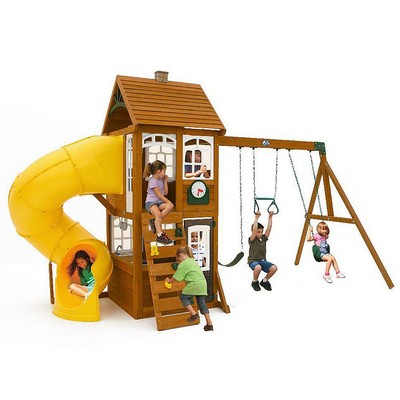 Similar items you may be interested in
Description
You MUST email me your phone number to complete your purchase!! BRAND NEW!! DELIVERED TO YOU AT THE BEST PRICES ON EBAY!! Overall Dimensions (L x W x H): 16 8" x 7 6" x 9 6"ASTM recommended safety zone (L x W): 28 8" x 28 0" The Creston Lodge Play Set by Cedar Summit offers all sorts of opportunities for your little ones to participate in active and imaginative play! Kids will stay active climbing up the rockwall to the upper clubhouse where they can wave out the premium window and play with friends while staying shaded by the beautiful wooden roof with faux stone chimney.

From here they can slide down the exciting twist n ride tube slide to the lower clubhouse and swings.

The lower clubhouse comes packed with many accessories to create a play space for your children and their friends that is just the right size.

Here they can send and receive mail with the mailbox with working flag and door, make calls to family and friends with the play phone, or cook up some fun in the play kitchen complete with a stove, sink and utensil shelf with various accessories.

This Play Set also includes a clock with moveable hands and a chalkboard- the perfect place to let everyone know what time lunch will be ready! Additionally the Creston Lodge has two belt swings with soft touch rope and an acro bar attached to the solid timber swing beam with our premium swing components designed with comfort and safety in mind.

To ensure you get the very best out of your Cedar Summit Play Set our products are built with heavy duty swing brackets, heavy duty swing hangers, increased spacing between swings, and features pre-assembled panels for an even easier assembly.

With all these features and activities, the Creston Lodge is the only Play Set you will ever need! Sit back and watch your children play and have fun in the safety of their own Cedar Summit Premium Play Set.

Craftsmanship and devotion to detail are the hallmarks of our company.

Using only 100 % Premium Cedar Lumber, the skills and dedication of associates who produce these elite Play Sets are bolstered by a commitment to providing innovative designs and features.

IMPORTANT: This product is only for use in residential areas and is intended for up to 10 children ages 3 to 10 with a maximum weight of 110 lb. per child Design Features100% Premium Cedar LumberPre-assembled panel design- the panels are designed to fit together simply and without guesswork.

This means up to 27% fewer wood components and 32% less hardware for you to assemblePre-cut, pre-drilled and pre-stained Lumber with factory applied, child safe stainHeavy-duty swing hangers and swing chain Packaging Your Creston Lodge Play Set comes in 3 packages Box 1: 90" L x 22" W x 3.5" H = 85 LBS Box 2: 90" L x 44" W x 6.75" H = 180 LBS Box 3: 36.5" L x 29.25" W x 21" H = 65 LBS The Creston Lodge Play Set includes the following play activities:Rock-wall with multicolored rocksUpper clubhouse with Premium WindowsWooden roof with faux stone chimneyLower Clubhouse with working doorClock with moveable handsMailbox with working flag and doorKitchenette including stove, sink, and utensil shelf with accessoriesPlay phone2 Belt swings and acro barTwist N Ride tube slide This item is shipped directly from the warehouse and you must include your phone number so that the freight company can contact you for delivery.

Delivery will take approximately 1-3 weeks, but may arrive sooner.

Because of the size of this item, refunds are not allowed.

You are responsible for checking the shipment and if necessary, either refusing it or noting damage upon receipt.

On Aug-02-09 at 12:59:48 PDT, seller added the following information: Dimensions are an APPROXIMATE MEASUREMENT! Our items can only ship to the contiguous 48 United States.

We can NOT ship to Alaska, Hawaii, U.S. Territories.

For security reasons, we also can NOT ship to freight forwarding facilities."