Bidding has ended on this item.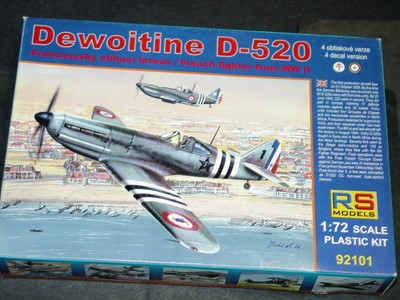 Similar items you may be interested in
Toys & Hobbies > Models & Kits > Military > Aircraft > Other Military Aircraft Models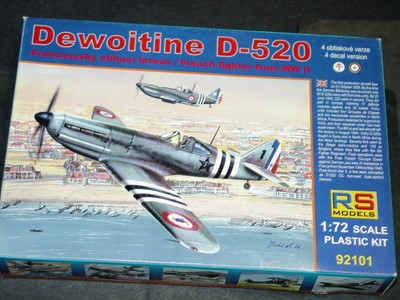 Similar items you may be interested in
Description
This is RS PLASTIC Models 1/72 scale #92 ! The Dewoitine D.520 ..... was a French fighter aircraft that entered service in early 1940, shortly after the beginning of World War II.

Unlike the Morane-Saulnier M.S.406, which was at that time the most numerous fighter in the French Air Force, the Dewoitine D.520 came close to being a match for the latest German types, such as the Messerschmitt Bf 109. It was slower than the Bf 109E but superior in manoeuvrability.[1] Because of a delayed production cycle, only a small number were available for combat against the Luftwaffe.

The D.520 was designed in response to a 1936 requirement from the French Air Force for a fast, modern fighter with a good climbing speed and an armament centred on a 20 mm cannon.

At the time the most powerful V 12 liquid-cooled engine available in France was the Hispano-Suiza 12Y, which was less powerful, but lighter than contemporary engines such as the Rolls-Royce Merlin and Daimler-Benz DB 601. Other fighters were designed to meet the specifications but none of them entered service, or entered service in small numbers, too late to play a significant role during the Battle of France.

RS Models are one of the original Czech Resin companies BUT Now they do plastic TOO ! This is a complete high quality short run plastic kit with injected canopies , photoetch, resin details and decals . !!!PLEASE READ!!! Postage is FREE! But Please Note : Domestic orders of BOOKS Mail at Media Mail Rate and CanNOT be combined with other items.

The kits will be invoiced separately Please inform me immediately if after winning an item if you are bidding on another.

The postage is free so you are not saving money by waiting to combine items but : IF it is more than 3 days away the ITEMS WILL NOT COMBINE on the invoice once I send it.

So please tell me WHY you are waiting I ship most of my items cocooned in bubble wrap in a large envelope . Folding style, one piece boxes are collapsed flat to avoid damage.

This is a very effective, lightweight & inexpensive way to mail.

BUT if you want your items shipped in a BOX there will be additional weight and additional cost, its up to you.

IF You want your order BOXED, You must Request a Boxing via Ebay , or call me, Joe , @ 001 973 953 4114 Also I can directly process Visa /Master Card or Discover and I PREFER TO BE PAID THIS WAY since I pay for the service and it is less expensive than Pay pal which charges 3.9% ! So IF YOU WANT TO USE YOUR CARD OR HAVE A QUESTION PLEASE CALL ME AT: (001) 973 953 4114 You can also take a look at my online web site: ....joesmodels ... com ...for further contact information. sincerely , Joe Gian Francesco/Joes Models .